Magic 8 Balls are almost every ones favourite party trick. It's the best way to get people off their mobile phones, and more in conversation with each other, all the while having fun. But the question is, where can you get one from?
Where can you buy a Magic 8 Ball from? There are a lot of shops near you and online to buy these from. Be careful! Most of them are trolled, don't have enough reviews, are in faulty condition or just wont last enough! Here is a list of all the best and most trustworthy places you can buy your Magic 8 Ball from.
Where to start the buying search
The Magic 8 Ball is one the most sold and sought out item online, with over one million units still sold each year. But as with a lot of successful product designs, it went through several iterations before its current form was realized.
The internet and most online platforms across the globe have at least one version of the Magic 8 Ball in their stores. Companies like Disney and other toy companies also released special themed editions of the Magic 8 Ball as part of Marketing campaigns and Merchandise for popular fan-based movies.
All of the above are reliable, more sturdy Magic 8 Balls that would last longer, work efficiently, have consistently good user reviews, are affordable too, and most importantly, are easily available in the market. The others, more cheaper options, are usually by other smaller scale companies that use the demand of the Magic 8 Ball to sell products that do not work well, like the dye leaks, or the Ball break easily, or isn't smooth enough to show an answer through the little window at its base when turned over.
Let's look at the two options in more detail.
A Physical Store Near You
In todays time, the easiest option is to just order things online from the comfort of your home. But for some, heading to a physical store and seeing something and feeling it in their hands are important steps to buying a product. We recommend it for a Magic 8 Ball.
1.    Closest Multipurpose Store
In most regions, your closest multipurpose store – look for hypermarkets, discount department stores, and bigger than normal grocery stores – will have a Magic 8 Ball in the toys section, or possibly in one of their lesser prices sections, tucked in a basket with an assortment of other items. Ones that we know of, that also show the Magic 8 Ball online, are giants like Walmart, Target or Kaufland.
Most of these places will show the product as available or unavailable on their website database. An efficient route would be to check online before heading out. This can also be a great way of comparing prices to finalize the one you want, and making sure the item is an authentic one.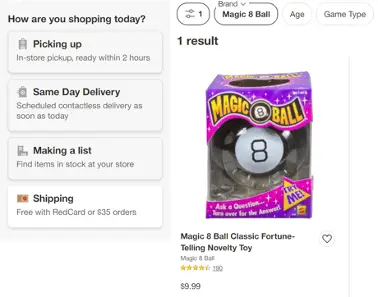 2.     Closest Toy Store
Another reliable option is to head to your closest toy store. We would recommend looking for ones that are either years old or are established in their business. These stores will most definitely have one of the authentic Magic 8 Balls available. For example, you can also look at the Store Locator on Mattels website, to find which one closest to you is a distributor of Mattel products, or one of their own closest stores.
The same can be done for any of the other Toy distributors, like the Disney Themed versions, or like the toy company, The Good Toy Group, that also have reliable products and distribute to different stores across the globe. This would vary for each region but is a great way to decide where to go!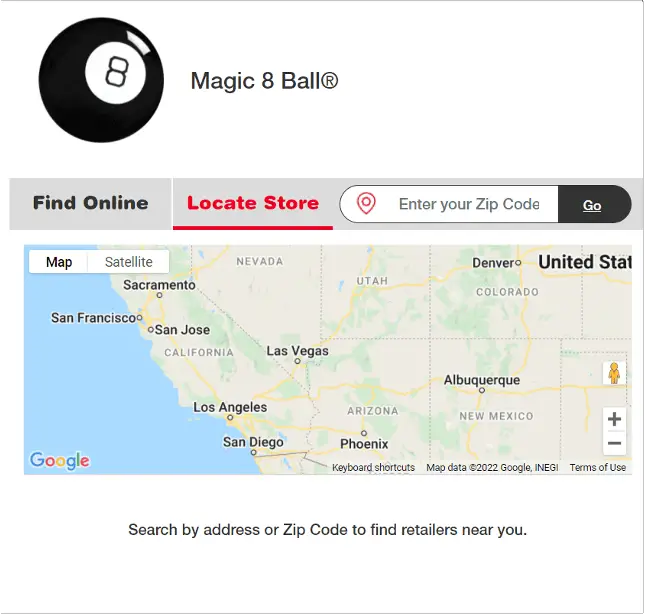 Ordering it Online
Ordering the Magic 8 Ball is, yes, the easiest way while you're comfortably sitting at home. Its also perhaps the trickiest, with an array of different options available online – authentic and unauthentic! So be careful. In our opinion, these are a few options to consider for online stores.
1.     Mattel Online Store

The Mattel Online Store has the Magic 8 Ball versions that the company still manufactures and sells. Your best bet is to go on there and either order it online or find your closest store that stocks it.

The best part is, they also show its limited-edition themed versions that are in stock. Such as this retro Magic 8 Ball Star Wars Edition with a galactic twist. It's a must have collectors item, with themed replies inspired by a galaxy far, far away, like 'You know it to be true' to 'Your thoughts betray you.'  – if you are bold enough to question the Darth Vader himself.
This is the best way to stay in the loop with their latest products and grab them while they last.
2.     Online Stores with multiple sellers, like Amazon, eBay, and other regional websites.
With this option, you are okay as long as you take a close look at a few factors before adding to the cart – namely, the user reviews, the stars the product has received and the sellers authenticity since these websites have multiple sellers, from individual people to bigger companies. For example, even Mattel has an online presence on Amazon with editions that are the same and different as the ones available on their own website.
The best part on Amazon and e-bay is, you can come across some very limited edition themed or vintage editions that people may be selling second-hand and that aren't manufactured anymore. Like the Worlds Smallest Magic 8 Ball edition by Mattel on Amazon, or the very unique Geek Talking Novelty Magic 8 Ball (in the image below), which is a great gift for those with a sharp sense of humour, but is a poor idea for those with a weaker sense of self-confidence. Its answers are different from the regular Magic 8 Ball with terse replies, like 'FAIL!' and 'O RLY?', or less serious replies, like 'LOL!' or 'MEH!' or '404 ERROR!'.
Conclusion
There are a whole range of options available online on Amazon, eBay, bigger Toy Manufacturing Corporations, along with some great easily accessible options available at physical stores close to you that can be easily located online.
Expert Tip – Sometimes, when all else fails, a simple Google search with 'Where can I buy a Magic 8 Ball close to me', or 'Store with Magic 8 Ball close to me', can do the magic! Google will give you a variety of choices with physical stores close to you, along with online stores applicable for delivery in your region that you can look at. Like we said before, just keep an eye out for reliable products.
References
Figure 1 – Oh Magic 8 Ball, Will I find you in my closest toy store? Or should I order you online?
https://www.etsy.com/listing/842877500/magic-8-ball-you-got-this
Figure 2- Target shows the availability of the AUTHENTIC MATTEL Magic 8 Ball online, with options of In-store Pick Up if ordered online, Same Day Delivery or Shipping.
https://www.target.com/c/games-puzzles-toys/magic-8-ball/-/N-5xt9iZxgpwt
Figure 3 – Store Locator of the Website of Mattel
Figure 4 – Classic Magic 8 Ball® Retro on the Mattel Online Store.
Figure 5 – Star Wars Themed Novelty Magic 8 Ball
Figure 6 – Worlds Smallest Magic 8 Ball by Mattel on Amazon
Figure 7 – Geek Talking Novelty Magic 8 Ball on Amazon