Accuracy is more of a subjective intuition. It is the voice inside you that always tells you whether or not something or someone can be trusted. Everyone needs a tool to enable the expansion of this consciousness and awareness. Magic 8 Ball can be your tool.

Magic 8 Balls are often accurate, if you ask correctly. You can trust its answers, just as much as your intuitive voice tells you to. The Magic 8 Balls responses are very carefully and statistically designed to be accurate, but that would also depend on how wisely you frame your question.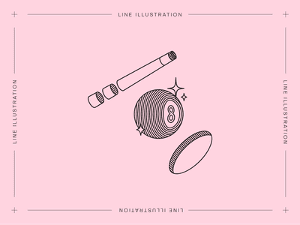 The Math Behind The Accuracy
As for how accurate its predications are, there can be three Mathematical propositions –
Hypothesis Number 1 – There is only one correct answer out of the twenty possibilities. Hence, the odds of receiving the correct one is only 5%.
Hypothesis Number 2 – A closer analysis of the twenty answers, as follows:

10 of the 20 responses are affirmative, that is, Yes. Which is 50%
5 of the 20 responses are negative, that is, No. That is 25%
5 of the 20 responses are non-committal, that is, variations of Ask Again. Again 25%

Hypothesis Number 3 – Open area of answers, that depend on the question.
Ask the Right Question
The three broader propositions outlined above also depend on the kind of questions you're asking the Magic 8 Ball. For Yes and No questions, like, Should I go for a run today or tomorrow, you fall into Hypothesis Number 2, whereby your chances of an answer are fifty-fifty – it will be either a Yes, a No, or a try again.
However, if you decide to go for a more sweeping question, like, What should I have for breakfast today, you've got a more open area of responses, which depend entirely on what you make of them – which is Hypothesis Number 3. The prediction, Signs point to yes, could mean yes, go ahead have breakfast or yes, we know you're thinking of French toasts deep down. Essentially, we think it is the Ball helping you make sense of what you already know.
In the third scenario, however, you could be asking the Ball a question that can only have one possible answer for you. In that case, for Hypothesis Number 1, you only have a 5% chance of getting the right answer. Perhaps like the one below.
Q: Will the Magic 8 Ball official iTunes App continue to double its gross sales and popularity in 2022 as they did in 2021?
A: Yes.
(of course, it will. It is ours and everyone's favourite tool. Only one response we are looking for, right?)
Conclusively, it is important to know what you want to know before you ask the Magic 8 Ball your burning question. For example, a single question framed in a number of different ways, to get diverse responses, could be as follows:
Is it raining outside right now?
Was it raining all night?
Will it rain tonight?
How long will it rain today?
Will it rain for the next two days?
Will the sun come out today?
Should I stay in and work today?
Should I go out for a run today?
Will I bump into my ex-girlfriend on my run today?
Will I get my favourite chocolate croissant at the Bakery on my way back from my run today?
And the list can keep going on.
Bottomline- Before you ask the Magic 8 Ball a question, dig deeper down within yourself: What do you really want to know?
What kind of decisions should be made from the responses of the Magic 8 ball?
Rely only on answers that do not have life-impacting consequences. So no Finance or Health issues should be determined on what the magic 8-ball tells you.
Conclusion
Yes, the Magic 8 Ball is accurate. And yes, the Magic 8 Ball can be trusted. It can be as much as you want to trust it, and yourselves – all about how much you know what you want to ask it, how well you know how to interpret and read its answers and how much you really trust it.
Statistically, it has a 50% probability of giving you a positive response, 25% chance of giving you a negative response and another 25% chance of giving you a non-committal try-again-or-accept-this response
In our opinion, there cannot be a better, more accurate tool to trust.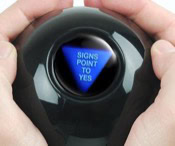 References
Reference 1: Ad Week "Why the Magic 8 Ball Still Holds Our Fascination"
https://www.adweek.com/brand-marketing/why-magic-8-ball-still-holds-our-fascination-163322/

Reference 2: 8-Ball – Creating a "Magic 8 ball game using TouchDevelop
https://touchdevelop.weebly.com/magic-8-ball.html

Reference 3: Ask the Magic 8 Ball
http://eightball.tridelphia.net/

Reference 4: Press Herald "Here's Something: Predictions from the all-knowing Magic 8-Ball"
https://www.pressherald.com/2020/12/28/heres-something-predictions-from-the-all-knowing-magic-8-ball/
Reference 5: Taking the Long Way Home "Five Running Questions I'd ask the Magic 8 Ball"
https://www.takinglongwayhome.com/2017/04/5-running-questions-id-ask-magic-8-ball.html
Reference 6: Britannica "Where Did the Idea for the Magic 8 Ball Come From?"
https://www.britannica.com/story/where-did-the-idea-for-the-magic-8-ball-come-from
Figure 1- Illustration from StockPhotos
Figure 2 –  All signs point to YES
https://makeschool.org/mediabook/oa/tutorials/learn-how-to-build-apps–magic-8-ball/intro-magic8/